OctaFX Demo Account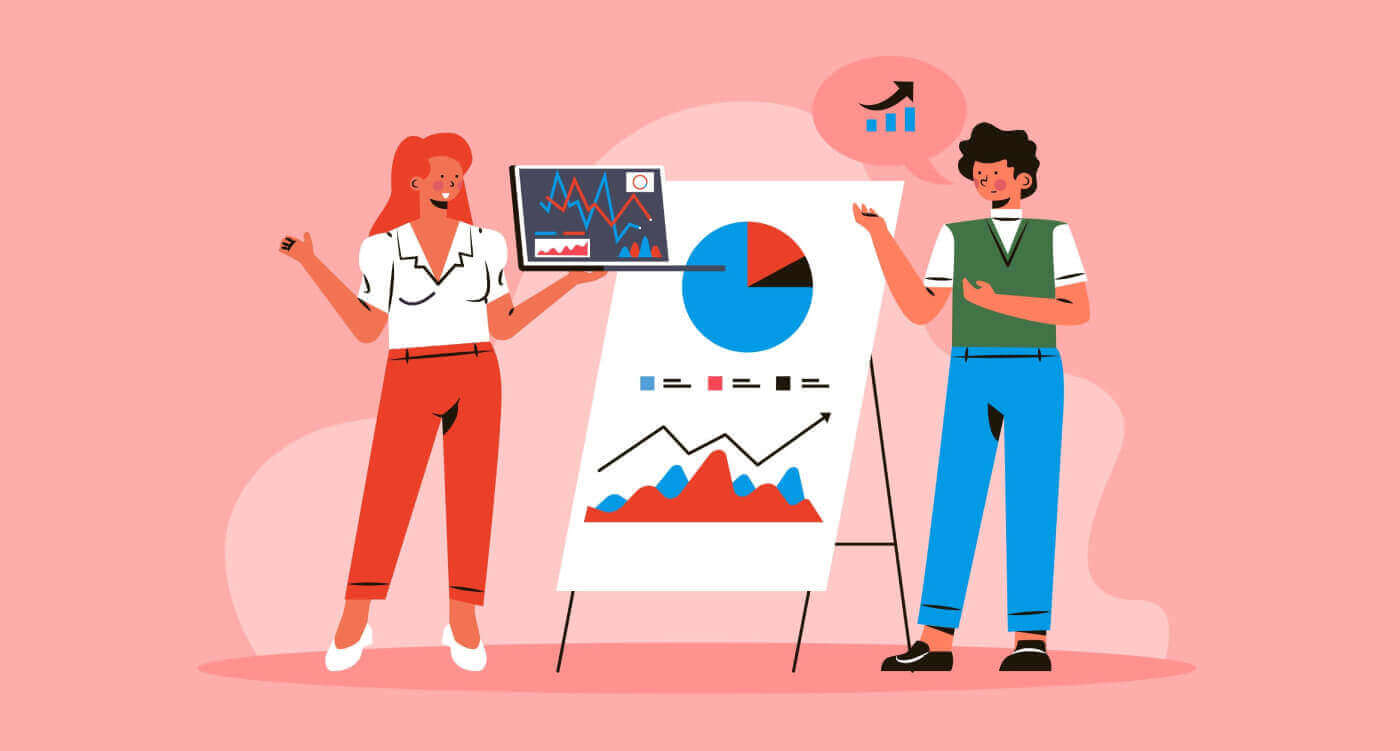 How to Register Account at OctaFX



How to Register a Trading Account
To open a trading account, please, follow the step-by-step instruction:
1. Press the Open Account button.
The Open Account button is located at the top right corner of the webpage. If youre having trouble locating it, you can access the registration form using the signup page link.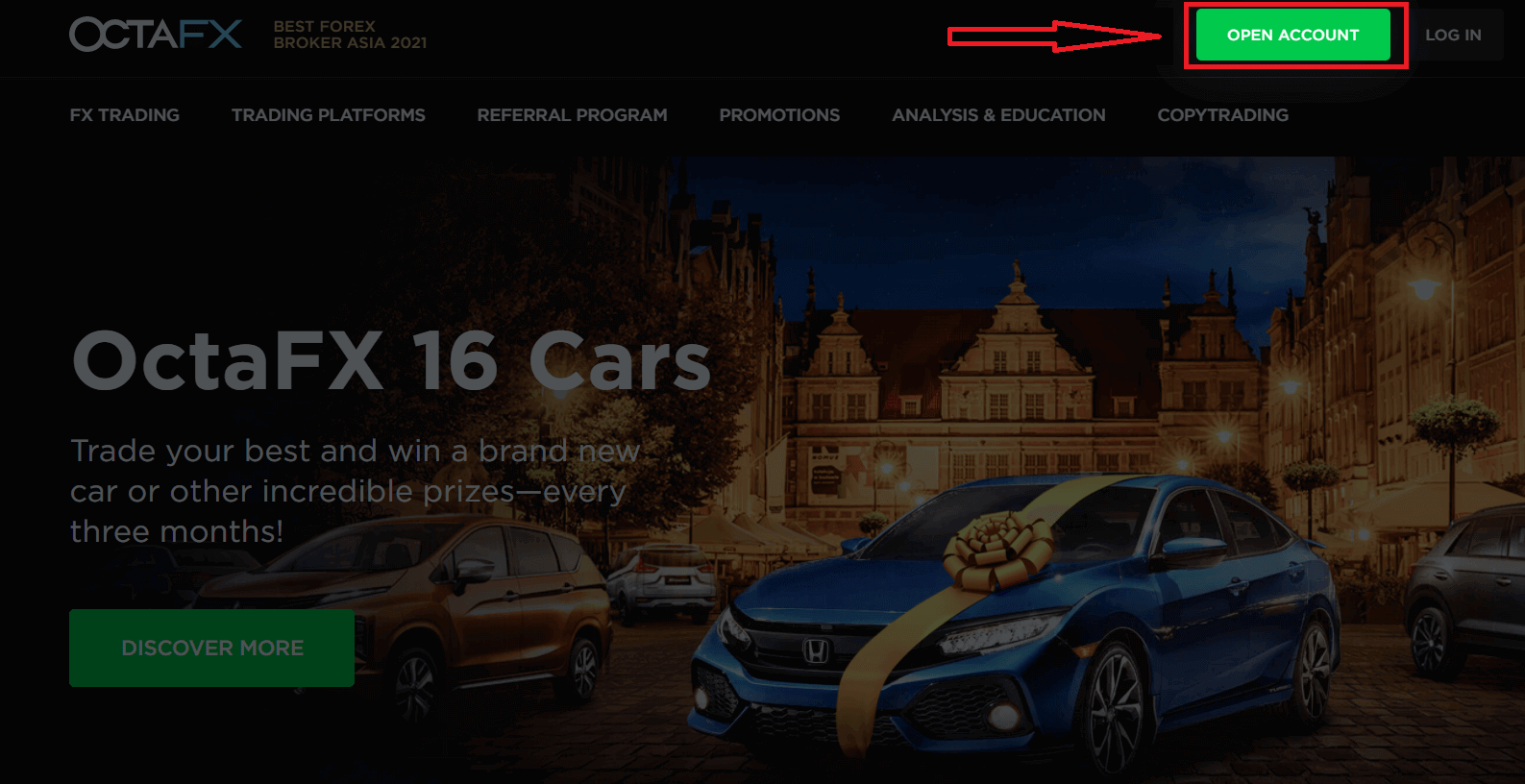 2. Fill in your details.
After pressing the Open Account button, youll come across a registration form asking you to fill in your details. After filling in your details, press the Open Account button below the form. If youve selected to sign up with Facebook or Google, fill in the missing information and press continue.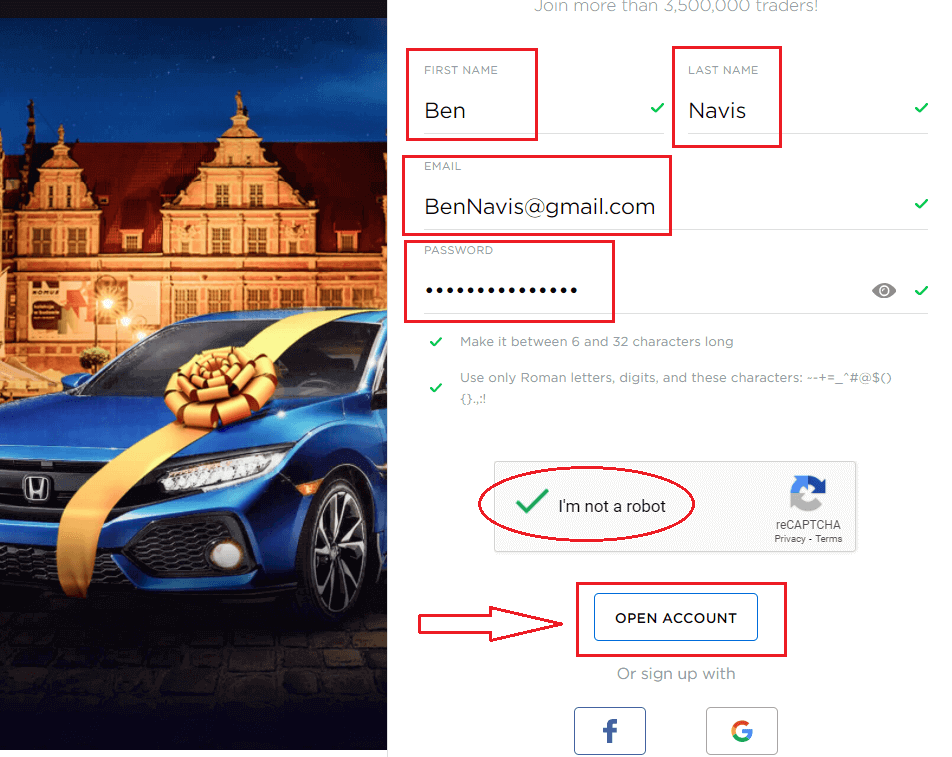 3. Verify your email address.
After providing your details and submitting the form, youll be sent a confirmation email. After locating and opening the email, press
Confirm
.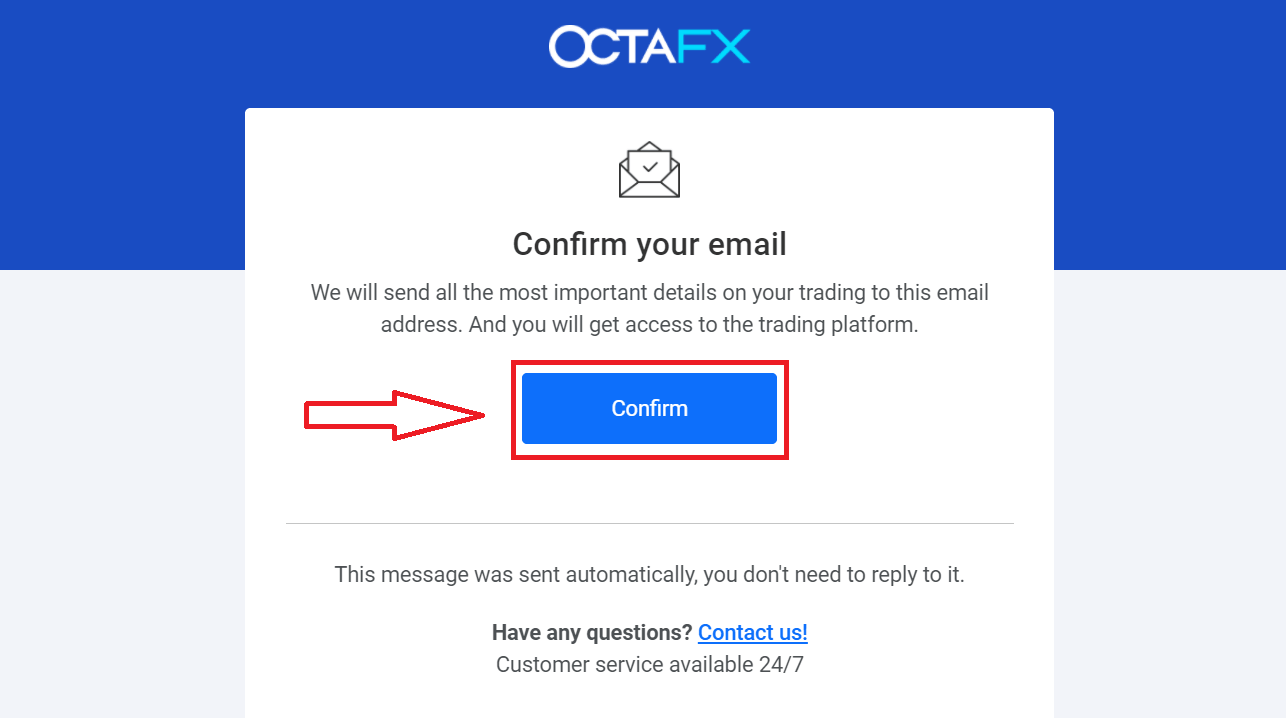 4. Fill in your personal details.
Following confirming your email, youll be redirected to our website to fill in your personal details. The information provided must be accurate, relevant, up-to-date, and subject to KYC standards and verification. Please notice that you need to be of a legal age to trade Forex.
5. Select a trading platform.
Next, youll need to choose which trading platform you want to use. Be prompted to select between either a real or a demo account.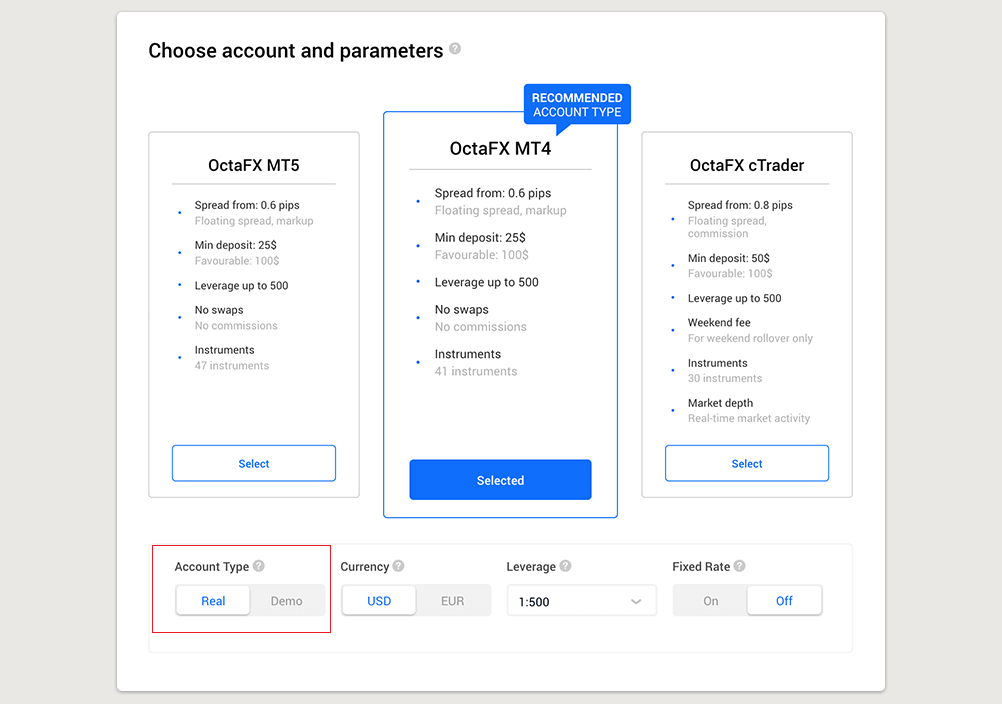 To understand which account is best for you, you should check our detailed comparison of Forex accounts and their types and compare trading platform features from OctaFX. Most clients typically choose the MT4 platform.
Once youve selected your desired platform, youll need to choose whether you want to open a real or a free demo account. A real account uses real money, while a demo account allows you to use virtual currency with no risks.
While you cannot withdraw funds from the demo account, you will be able to practice strategies and become acquainted with the platform without a hassle.
6. Complete account choice.
After choosing a platform, press Continue to finalize your account creation.
You will see a summary of your account, including:
Account number
Account type (demo or real)
Currency of your account (EUR or USD)
Leverage (you can always change it in your account later)
Current balance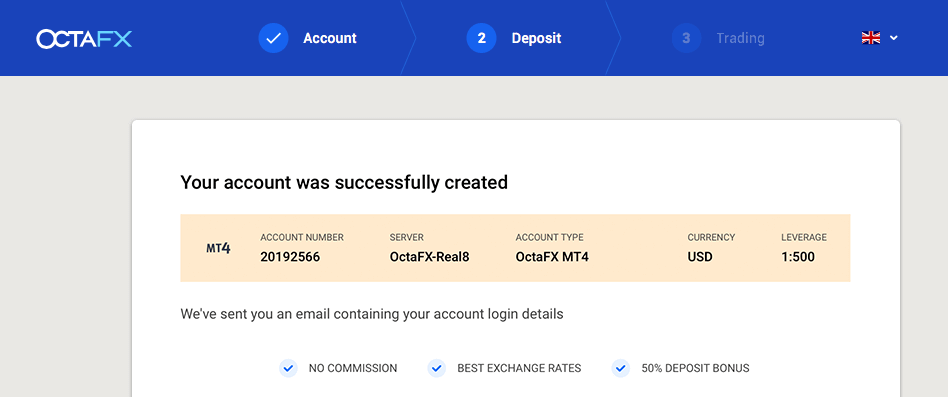 7. Make your first deposit and submit a verification document for withdrawal.
You can then make your first deposit, or you can first complete the verification process.
Please, notice that according to our AML and KYC policies, our clients must verify their accounts by providing the required documents. We request only one document from our Indonesian clients. You need to take a photo of your KTP or SIM and submit it. This way validates you are a sole holder of a trading account and ensures no unauthorized access.
Following the steps above allows you to create a trading account on OctaFX. To start trading, you need to initiate the deposit process.
Read how to deposit at OctaFX.
Before opening an account, it's important to familiarise yourself with this information:
Please, read the customer agreement thoroughly before you open an account.
Forex margin trading involves substantial risks. Before entering the Forex market, you need to be aware of the risks involved.
AML and KYC policies are in place to protect accounts from unauthorized access. To secure transactions, we require documents verification.
How to Register with a Facebook account
Also, you have an option to open your account through web by Facebook and you can do that in just few simple steps:
1. Click on Facebook button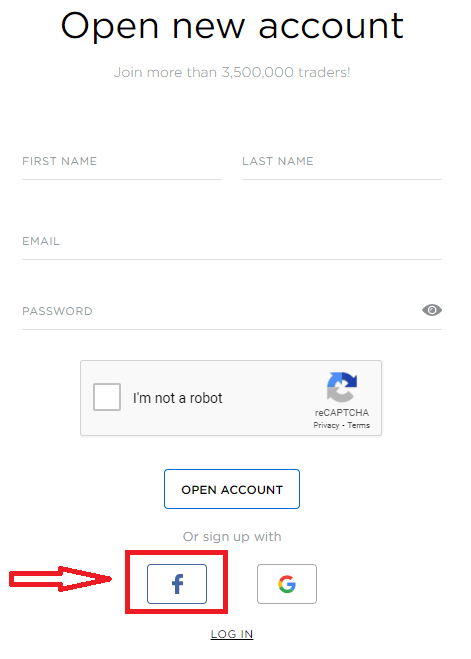 2. Facebook login window will be opened, where you will need to enter your email address that you used to register in Facebook
3. Enter the password from your Facebook account
4. Click on "Log In"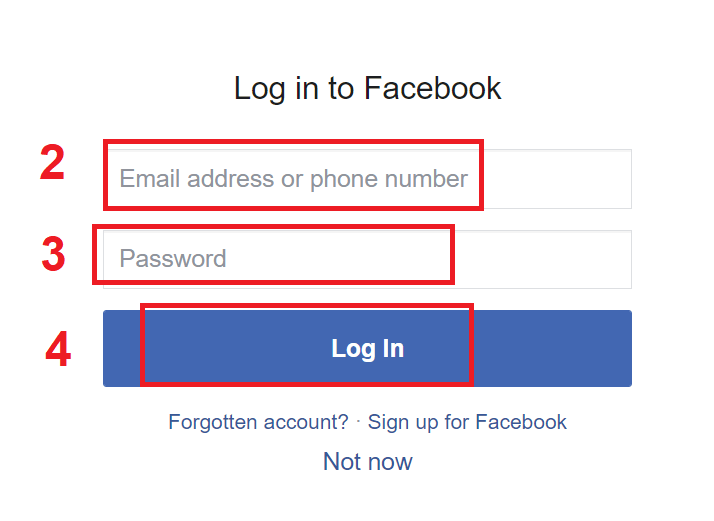 Once you've
clicked on the "Log in" button
, OctaFX is
requesting access to: Your name and profile picture and email address. Click Continue...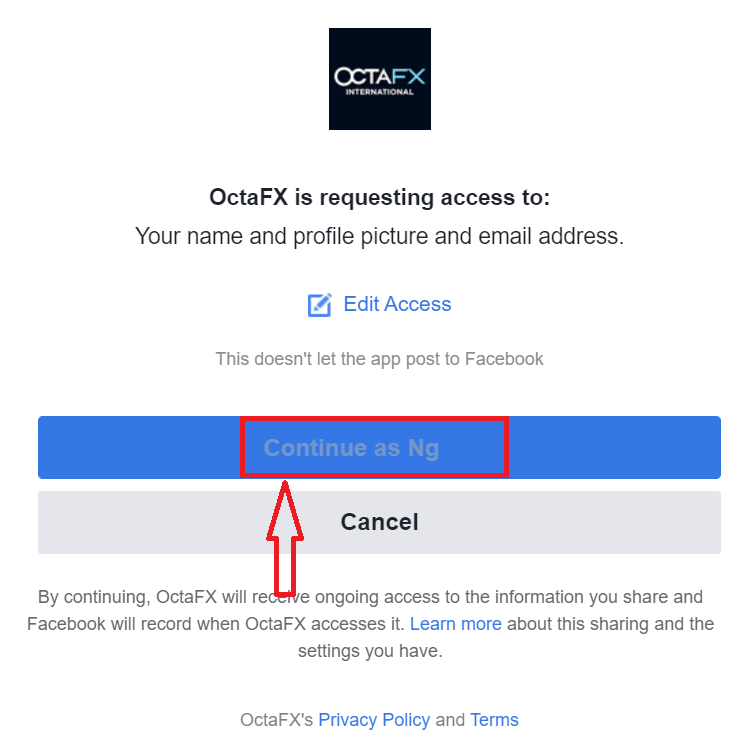 After That You will be automatically redirected to the OctaFX platform.



How to Register with a Google+ account
1. To sign up with a Google+ account, click on the corresponding button in the registration form.
2. In the new window that opens, enter your phone number or email and click "Next".
3. Then enter the password for your Google account and click "Next".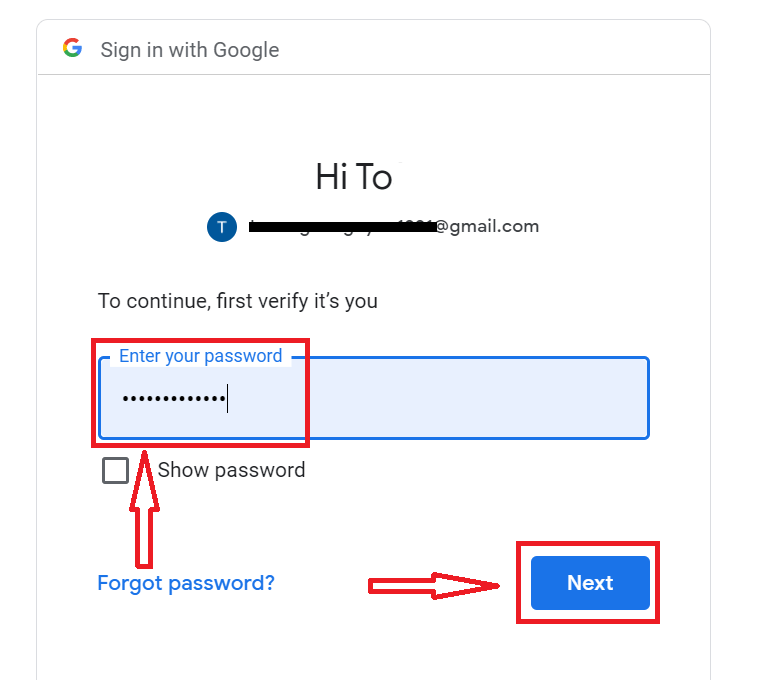 After that, follow the instructions sent from the service to your email address.



OctaFX Android App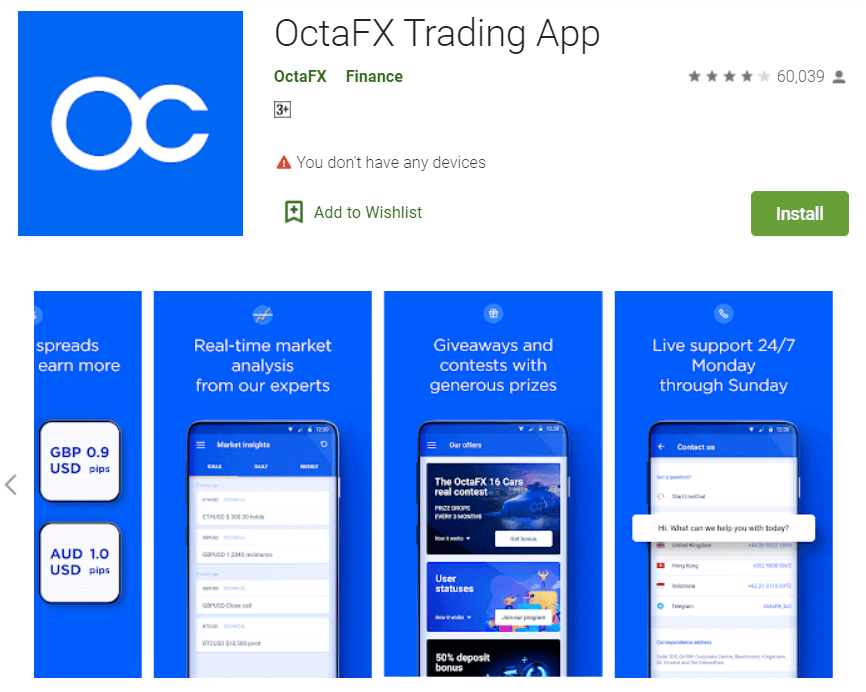 If you have an Android mobile device you will need to download the official OctaFX mobile app from Google Play or here. Simply search for "OctaFX – Mobile Trading" app and download it on your device.

The mobile version of the trading platform is exactly the same as web version of it. Consequently, there won't be any problems with trading and transferring funds. Moreover, OctaFX trading app for Android is considered to be the best app for online trading. Thus, it has a high rating in the store.
How to Verify Account in OctaFX
We require one document proving your identity: passport, national identity card or any other government-issued photo ID. Your name, date of birth, signature, photograph, ID issue and expiry dates and the serial number must be clearly visible. The ID must not have expired. The entire document must be photographed. Fragmented, edited, or folded documents will not be accepted.
If the issuer country differs from the country of your stay, youll also need to provide your residence permit or any local government-issued ID. The documents can be submitted within your Personal Area or to
[email protected]
Step-by-step guide
1. Put your KTP or SIM on a table or other flat surface in front of you.
2. Take a photo of its front side with a digital camera or your smartphone's camera as it is shown below: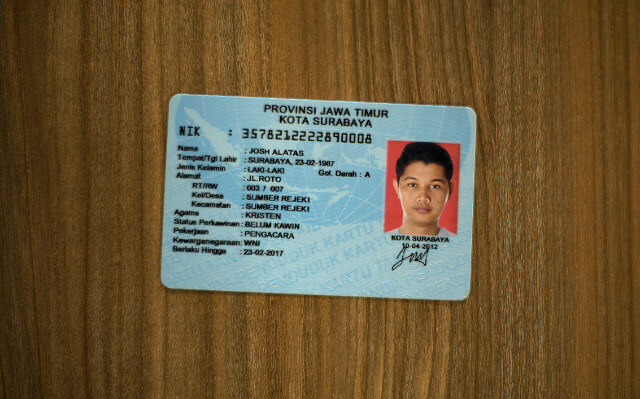 3. Make sure that all the required details are easy to read and all corners of the document are visible on the photo. Otherwise, your verification request will be declined.
4. Upload the photo via our verification form.  
Important! We do not accept scanned copies.
You will not get verified with:
Your photo without personal details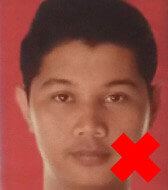 A screenshot of the document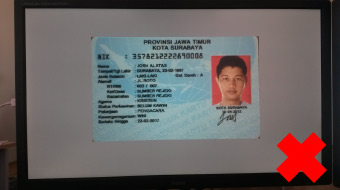 How to Deposit at OctaFX



Initiating a Deposit
Step 1. Log into your Personal Area and press Deposit.
The
Deposit
button is at the top of the main menu and the right-hand menu on both mobile and desktop versions of our site.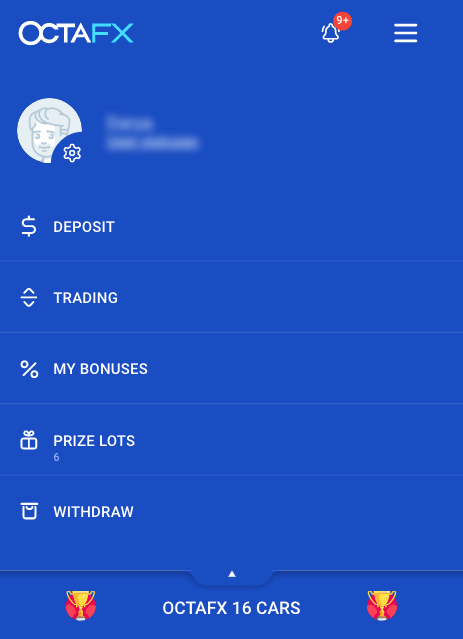 Step 2. Select the account you want to make a deposit to.

Then on choose your preferred transfer method



Depositing from your bank account
Step 1. Select the Local Bank option or choose your bank logo if you see it.
Note that the bank list you can see depends on the region you specified during the registration.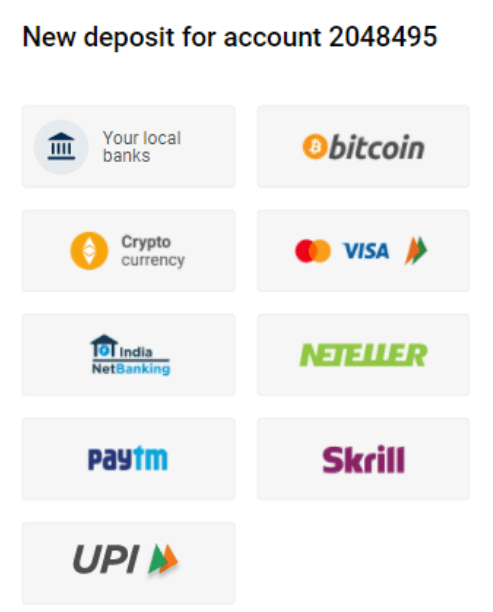 Step 2. Select a template or specify the deposit amount.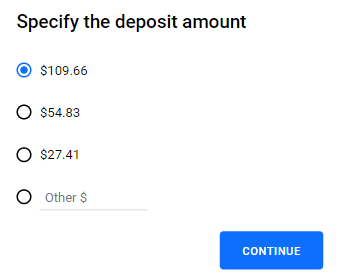 Step 3. If you didn't do that on Step 1, select your bank.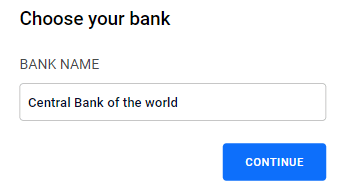 Step 4. Next on, follow the instructions.
You have three ways to make a wire transfer deposit:
Via online banking:
Open your online banking app or website.
Make a transfer to the credentials you will see on the deposit page
.Make a screenshot of your processed transaction.
Via ATM:
Find your nearest ATM.
Make a deposit to the credentials you will see on the deposit page.
Keep the receipt.
At a bank branch:
Go to your nearest bank branch.
Carry out the transfer to the credentials you will see on the deposit page.
Keep the receipt.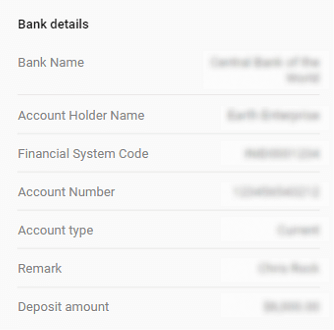 Please note:
You'll need to keep the credentials at hand when you're making the transfer.
•The amount you specified on our site should match the amount of the transfer.
Step 5. When done, notify us after the transfer.
When you're all set, press
Notify Us After Transfer.
You will be prompted to a form where you need to fill the actual transfer amount, your bank account number, and the date of transfer.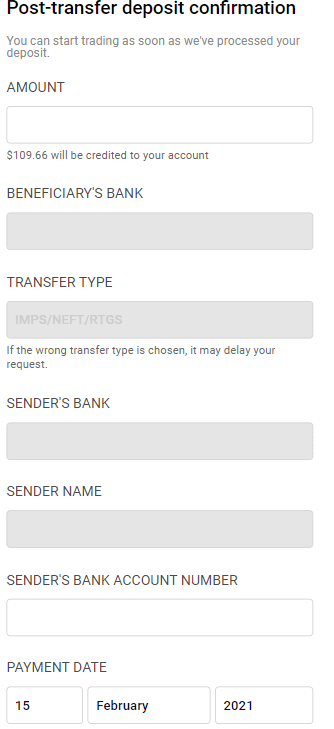 To speed it up, you can upload the payment proof—a screenshot of your processed transaction or a photo of the transfer receipt.
Finally, press Confirm Request.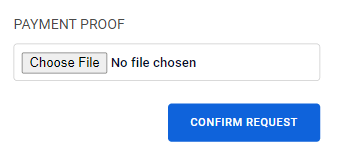 The payment will be settled in your account in 1 – 3 hours.
Depositing with a Credit or Debit Card and E-Wallets
These deposits are always instant.
Step 1. Select Visa, mastercard, or your e-wallet—this list may vary depending on your country.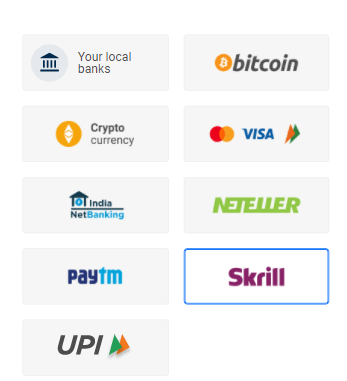 Step 2. Select a template or specify the deposit amount.

Step 3. If necessary, fill in other payment information or check the transfer details.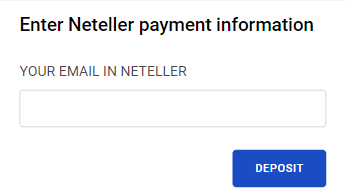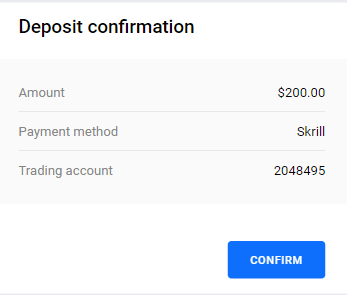 Step 4. You will be prompted to the payment service page. Follow its instructions to complete the payment.



Depositing Via Bitcoin
Step 1. Select Bitcoin.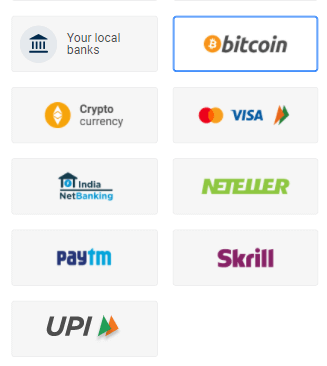 Step 2. Make sure you won't hit the maximum transfer limit and press Proceed with BTC.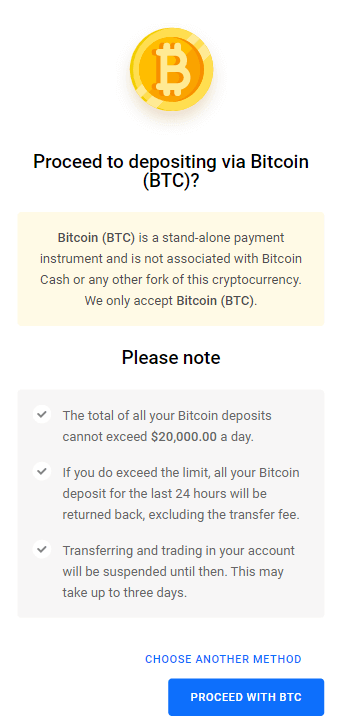 Step 3. Proceed with the payment to your Bitcoin Wallet.
For mobile:
scan the QR code that you will see below and follow the instructions.
For desktop and mobile:
copy the below Bitcoin address in your Bitcoin Wallet app and specify the transfer amount in it.
Good to know:

• You need to add funds to start trading on a real Forex account.

• We do not apply commissions on deposits and withdrawals—for any transfer method.

• We cover all fees applied by payment systems.

• The deposits are instant but may take up to three hours for certain methods.

• You can find all details on the payment method in your country on a special page.
Video of Deposit
How to Trade Forex at OctaFX
1. Once you open the application, youll see a login form, which you need to complete using your login and password. Choose the Real server to log into your real account and the Demo server for your demo account.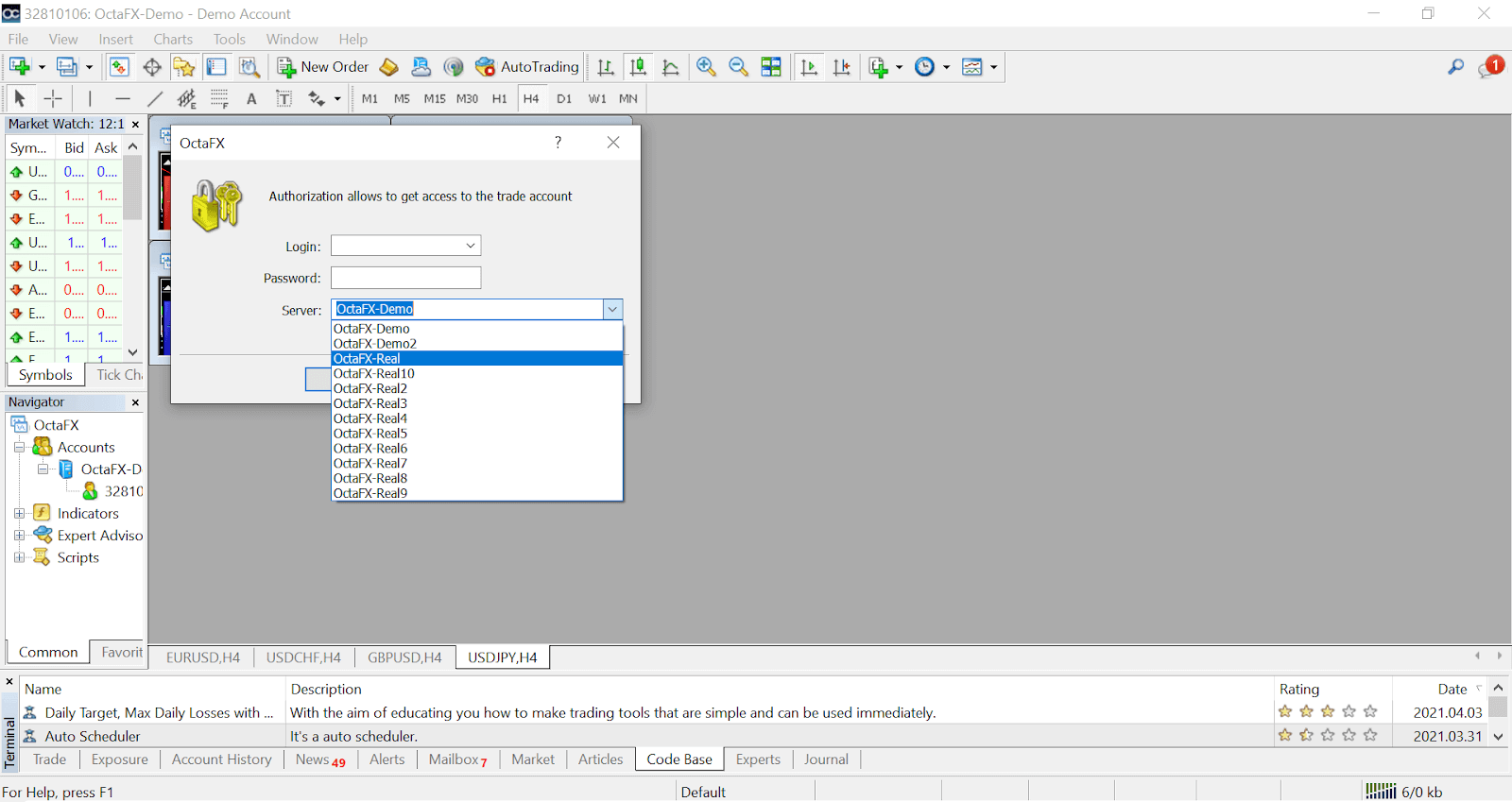 2. Please note that every time you open a new account, well send you an email containing that accounts login (account number) and password.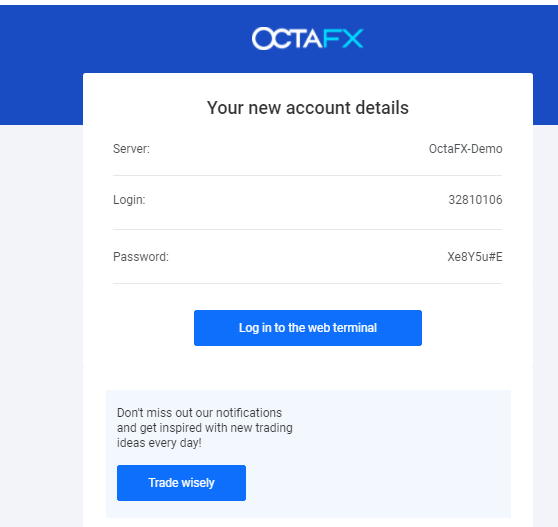 After logging in, youll be redirected to the MetaTrader platform. Youll see a big chart representing a particular currency pair.
3. At the top of the screen, youll find a menu and a toolbar. Use the toolbar to create an order, change time frames and access indicators.
MetaTrader 4 Menu Panel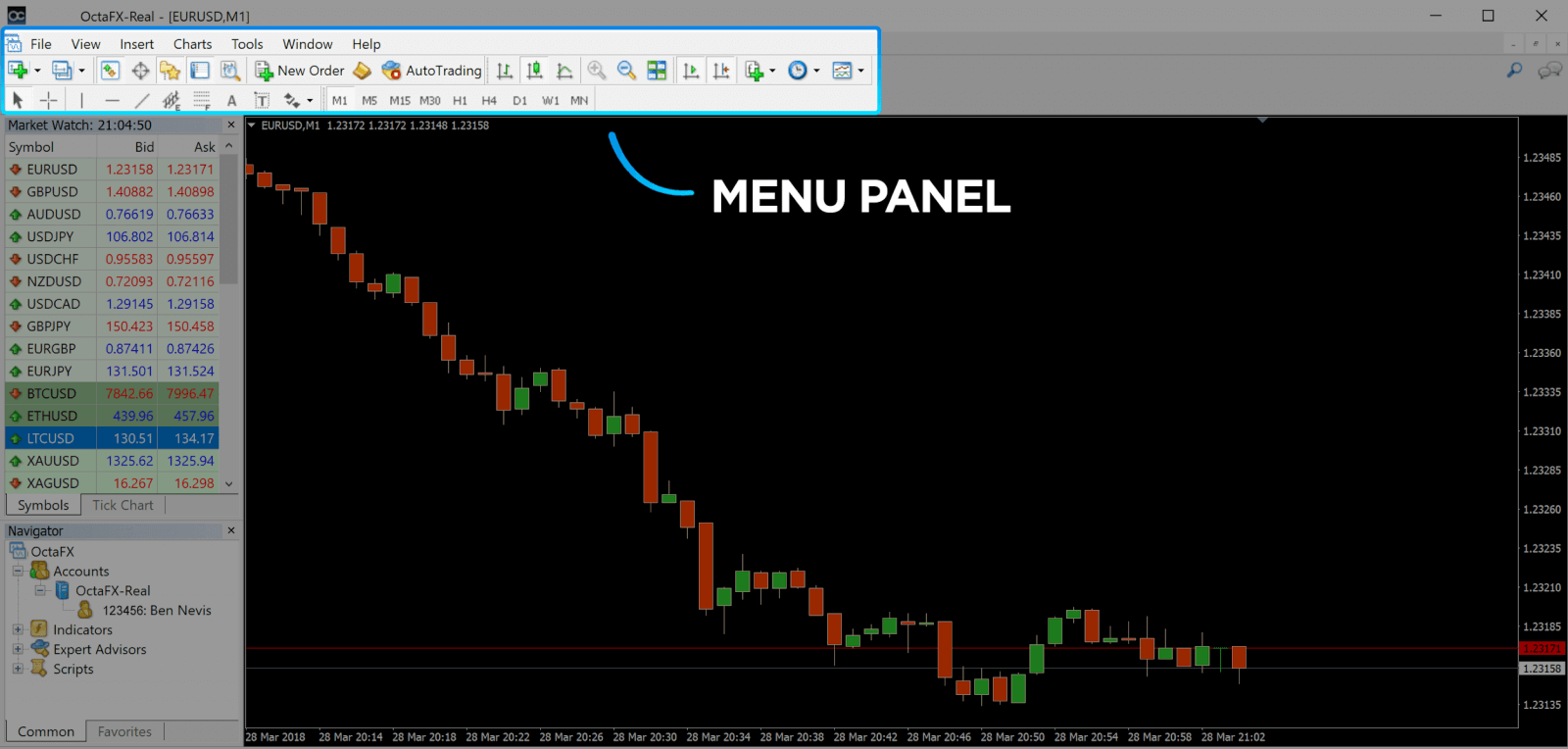 4.
Market Watch
can be found on the left side, which lists different currency pairs with their bid and ask prices.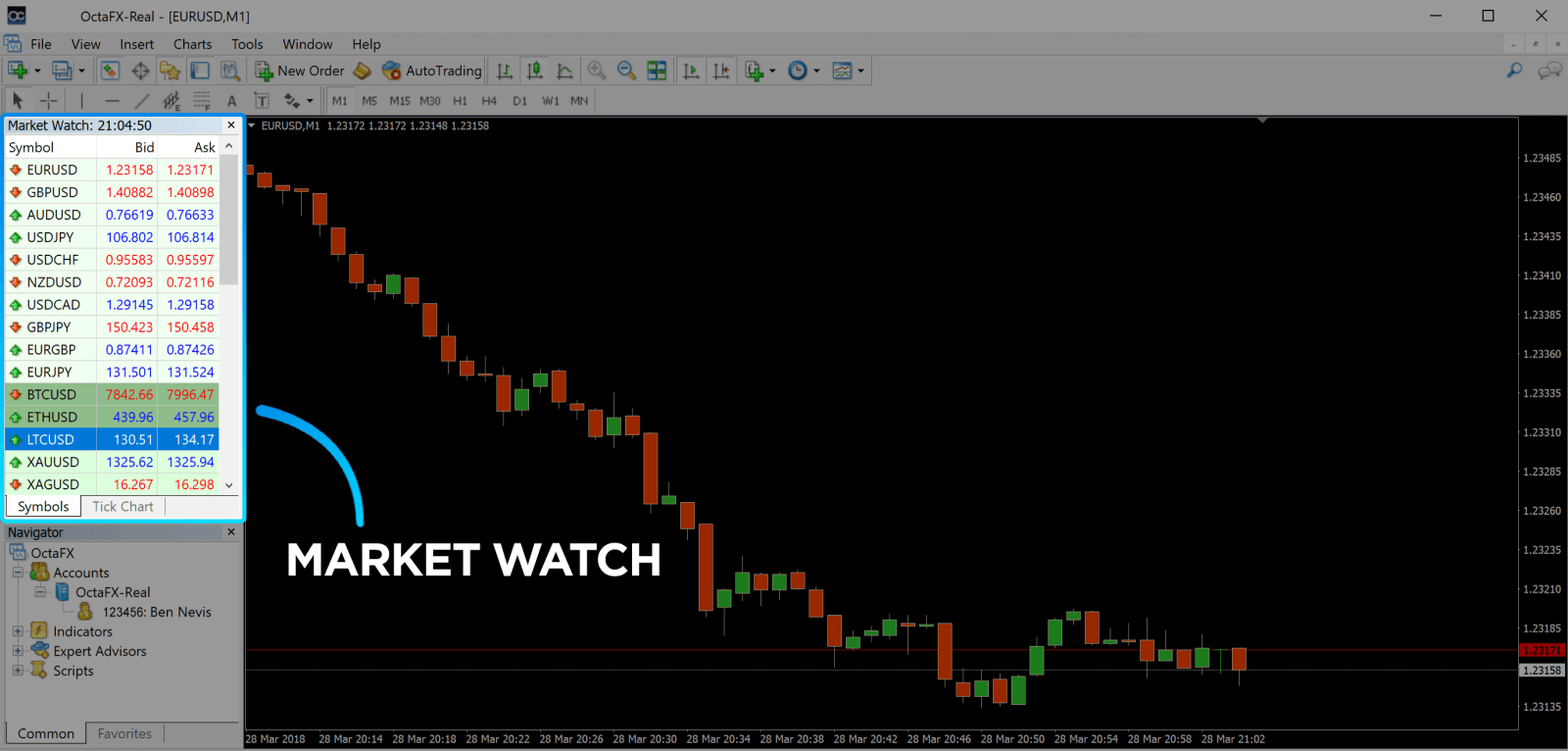 5. The ask price is used to buy a currency, and the bid is for selling. Below the ask price, youll see the
Navigator
, where you can manage your accounts and add indicators, expert advisors, and scripts.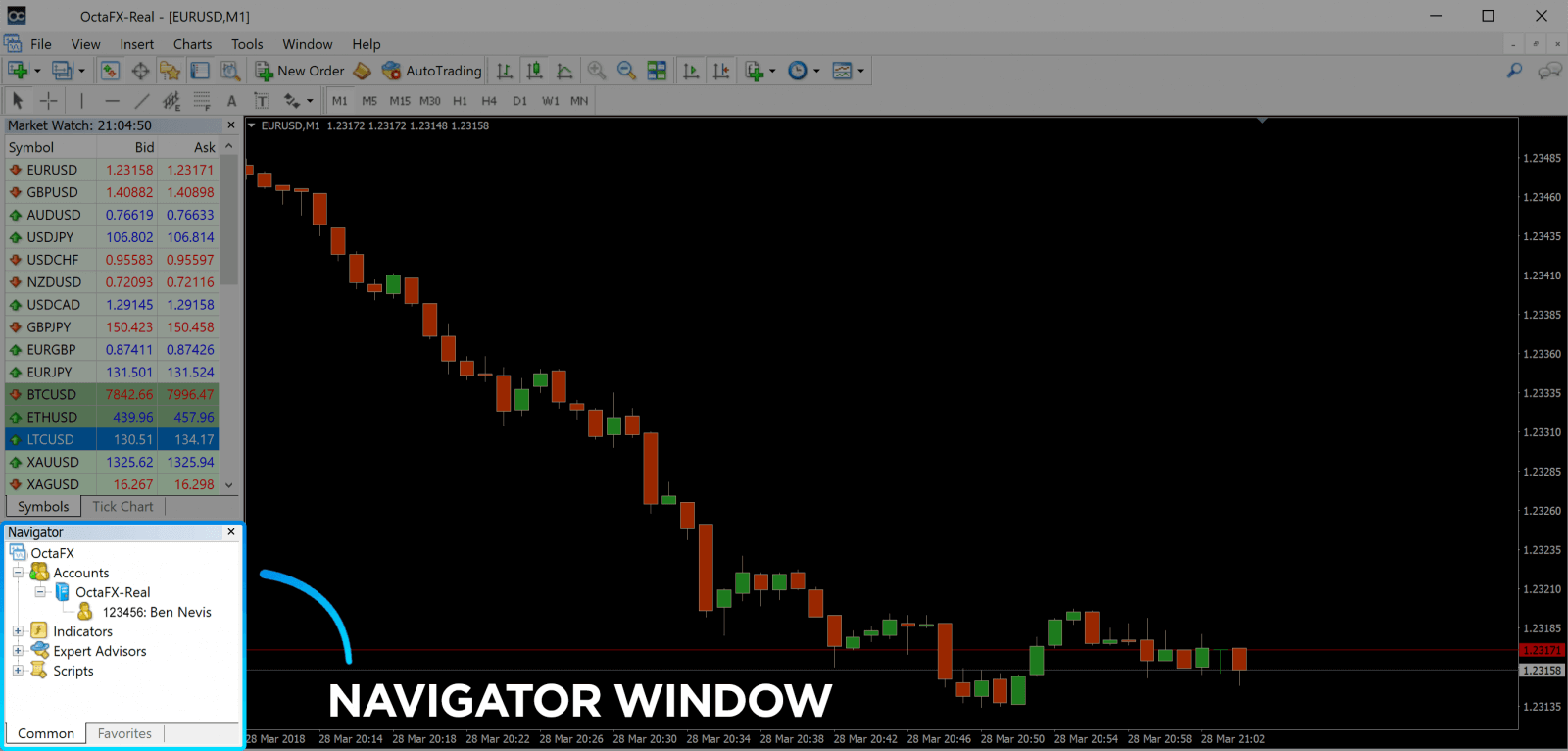 MetaTrader Navigator

MetaTrader 4 Navigator for ask and bid lines
6. At the bottom of the screen can be found the
Terminal
, which has several tabs to help you keep track of the most recent activities, including
Trade, Account History, Alerts, Mailbox, Experts, Journal,
and so forth. For instance, you can see your opened orders in the Trade tab, including the symbol, trade entry price, stop loss levels, take profit levels, closing price, and profit or loss. The
Account History
tab collects data from activities that have happened, including closed orders.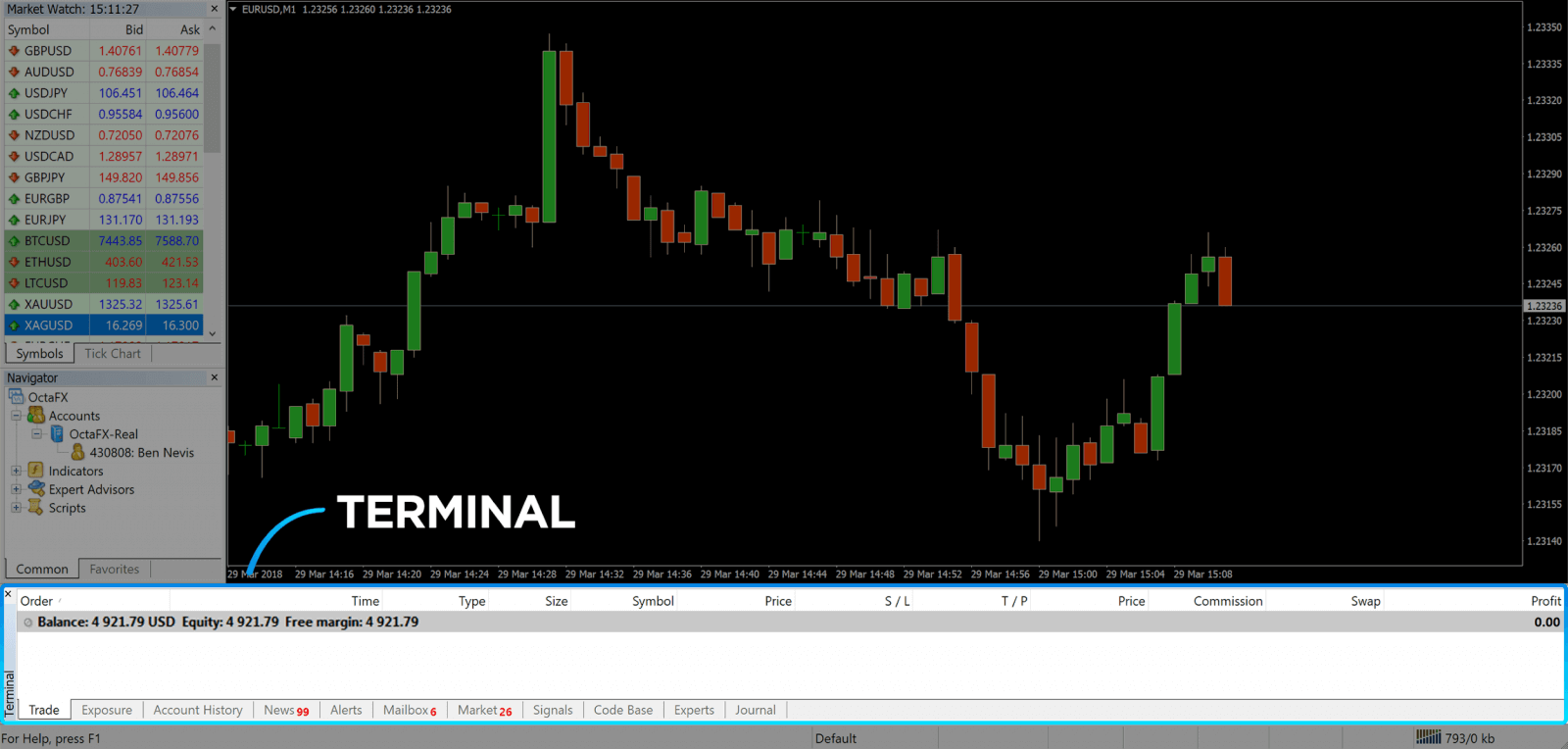 7. The chart window indicates the current state of the market and the ask and bid lines. To open an order, you need to press the New Order button in the toolbar or press the Market Watch pair and select New Order.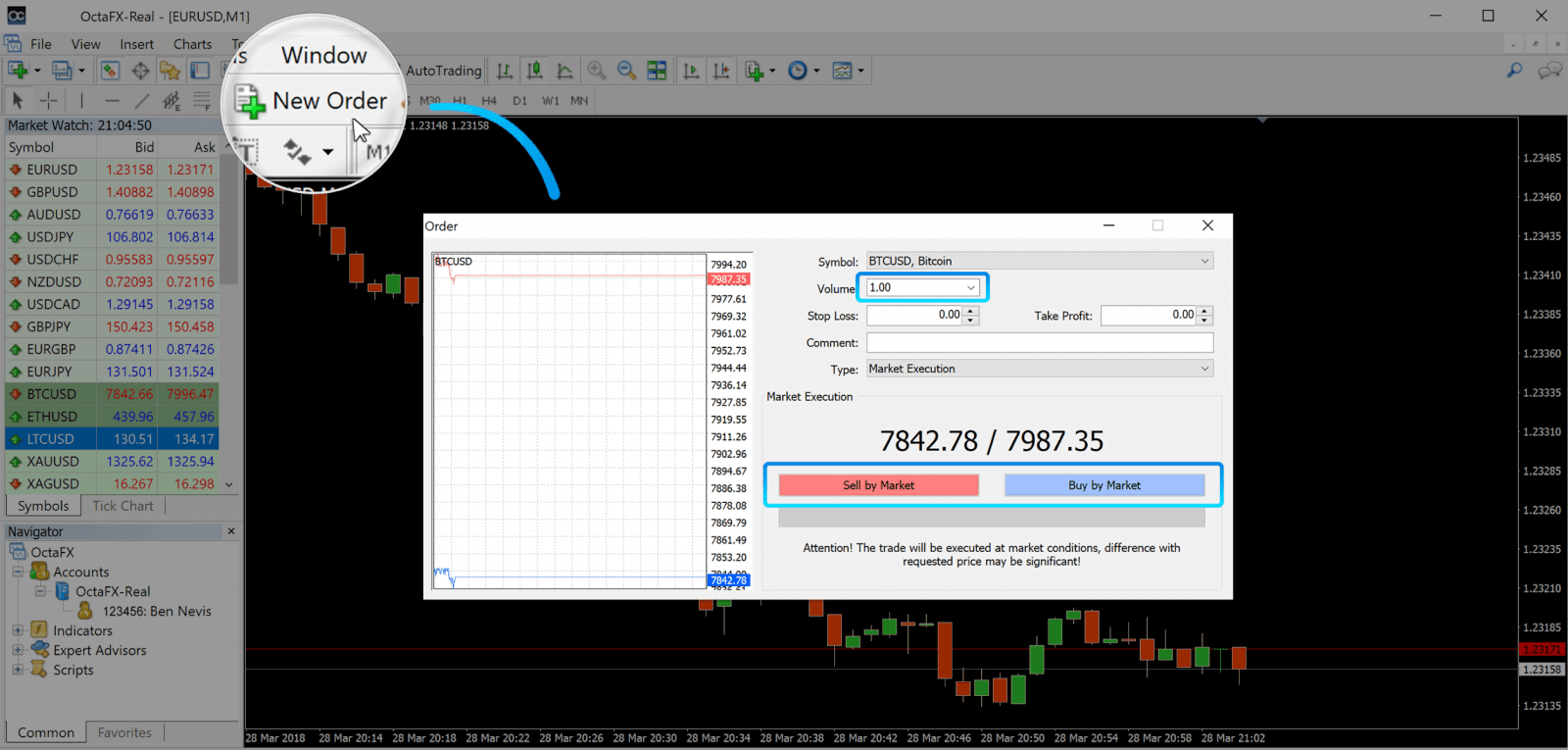 In the window that opens, you'll see:
Symbol, automatically set to the trading asset presented on the chart. To choose another asset, you need to select one from the drop-down list. Learn more about Forex trading sessions.
Volume, which represents the lot size. 1.0 is equal to 1 lot or 100,000 units—profit Calculator from OctaFX.
You can set Stop Loss and Take Profit at once or modify the trade later.
The type of order can be either Market Execution (a market order) or Pending Order, where the trader can specify the desired entry price.
To open a trade you need to click on either the Sell by Market or Buy by Market buttons.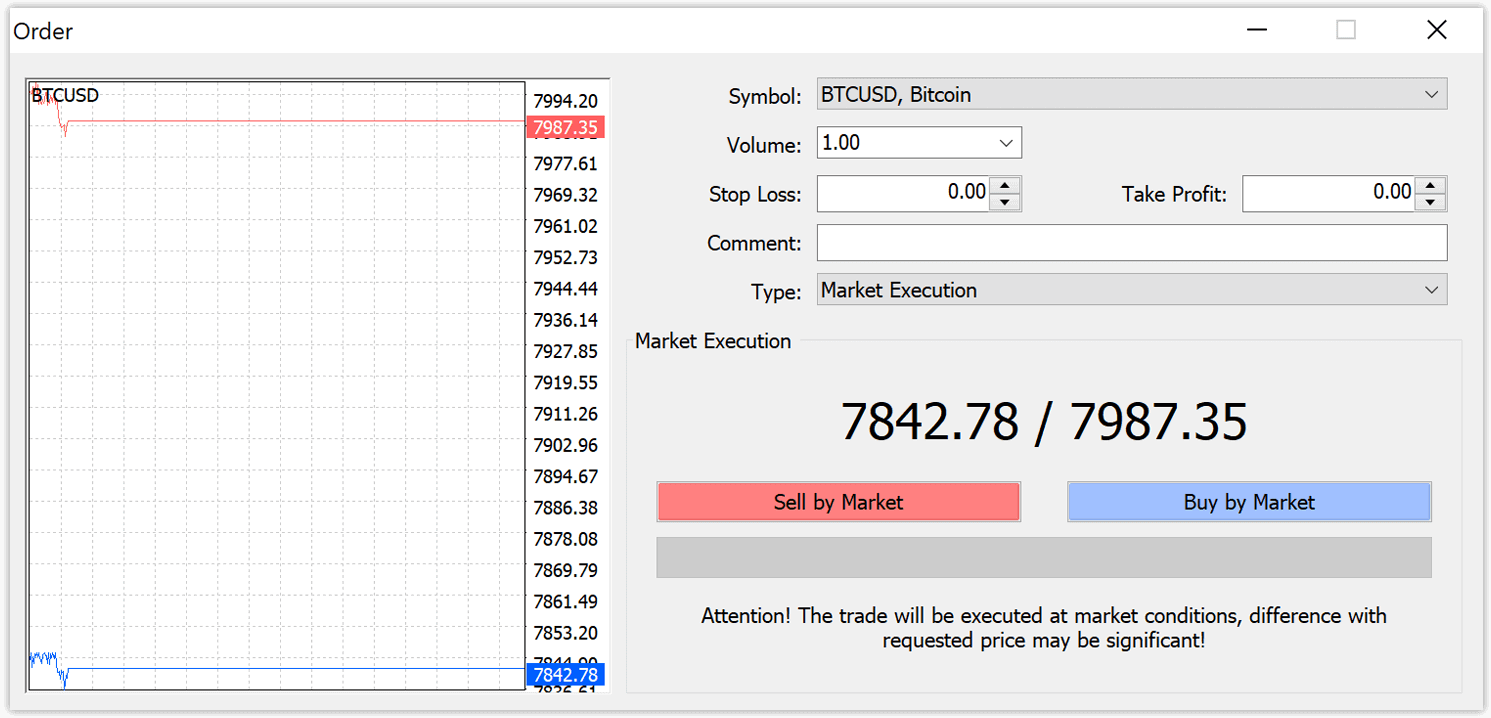 Buy orders open by the ask price (red line) and close by the bid price (blue line). Traders buy for less and want to sell for more. Sell orders open by the bid price and close by the ask price. You sell for more and want to buy for less. You can view the opened order in the Terminal window by pressing on the Trade tab. To close the order, you need to press the order and select Close Order. You can view your closed orders under the Account History tab.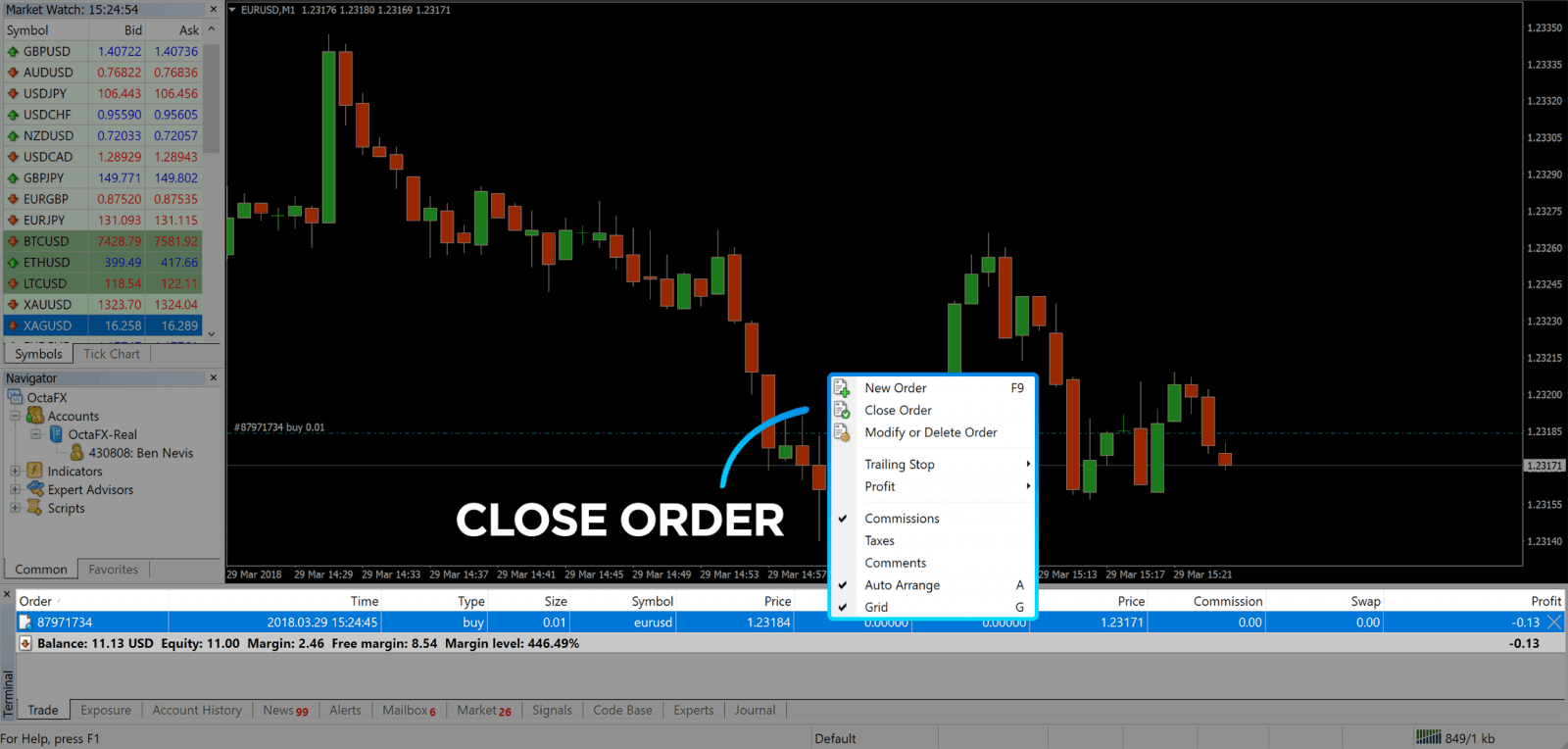 This way, you can open a trade on MetaTrader 4. Once you know each buttons purpose, itll be easy for you to trade on the platform. MetaTrader 4 offers you plenty of technical analysis tools that help you trade like an expert on the Forex market.  

How to Trade Crypto in OctaFX

How to Trade with the CopyTrading App in OctaFX



How to Trade CFDS in OctaFX
The major stock market indices such as FTSE 100, Dow Jones, SP and Germanys DAX index tend to respond well to technical analysis and are generally more preferred by short term traders. Other popular indices include Frances CAC-40 and Japans Nikkei 225.
Fundamentals-wise, it would mainly depend on the country the index originates from as well as the economic sectors it represents. Below you will find a brief description of the major indices we offer for trading.
The Dow Jones Industrial index
Symbol: US30
Trading hours: Monday - Friday, 01.00 - 23.15, 23.30 - 24.00
Thanks to the volatility of the US markets, the Dow Jones industrial index is one of the most popular instruments among the traders. Comprised of 30 major US companies, the Dow Jones provides a cross-section of the US economy and, consequently, is affected by the news releases from the region.

The Standard and Poors 500 Index
Symbol: SPX500
Trading hours: Monday - Friday, 01.00 - 23.15, 23.30 - 24.00
Another popular US index is the Standard Poor's 500 compiled from the share values of 500 largest companies in the United States. As it covers 70% of the stocks market, SP500 can be considered a better benchmark of the US economy than the Dow Jones.

The Nasdaq 100 Index
Symbol: NAS100
Trading hours: Monday - Friday, 01.00 - 23.15, 23.30 - 24.00
The NASDAQ 100 index comprising of the 100 largest companies listed on the NASDAQ exchange reflects a number of industries including computer hardware and software, telecommunications, retail/wholesale trade and biotechnology. With the influence all these sectors have on the economy, one can expect the index to be significantly affected by the financial news from the US.
The ASX 200 Index
Symbol: AUS200
Trading hours: Monday-Friday, 02.50-9.30, 10.10-24.00
Based on the Sydney Futures Exchange (SFE) Share Price Index Futures contract, the Aussie 200 index measures the movement of various sectors of the Australian Stock market. Along with responding to economic news and reports from Australia, it is also affected by changes in commodity prices as the Australian Economy is highly dependent on them.

Nikkei 225 Index
Symbol: JPN225
Trading hours: Monday-Friday, 02.00-23.00
Often referred as to the Japanese Dow Jones equivalent, the Nikkei 225 is a stock index for the Tokyo Stock Exchanged comprising of Japans top 225 companies, including Canon Inc., Sony Corporation and Toyota Motor Corporation. As the Japanese economy is highly export oriented, the index may be affected by some of the economic news from the US.

Eurostoxx 50 Index
Symbol: EUSTX50
Trading hours: 9.00-23.00
The Euro Stoxx 50, designed by Stoxx Ltd, is a capitalisation weighted index made up of the largest companies across several industries, including SIEMENS, SAP, SANOFI, BAYER, BASF, etc. In total, the index covers 50 companies from 11 EU countries: Austria, Belgium, Finland, France, Germany, Ireland, Italy, Luxembourg, the Netherlands, Portugal and Spain.

DAX 30
Symbol: GER30
Trading hours: 9.00-23.00
Another popular capitalisation weighted index, the German DAX, is comprised of the top 30 companies trading on the Frankfurt Stock Exchange, including BASF, SAP, Bayer, Allianz, etc. It is commonly believed to be a good market with substantial volumes, as it tends to trend for several hours at a time with relatively small pullbacks. As all major stock indices, it normally responds well to technical analysis and is affected by economic news from Germany and the EU in general.

IBEX 35
Symbol: ESP35
Trading hours: 10.00-18.30
The IBEX 35, mapping the 35 most liquid Spanish stocks, is the benchmark stock market index of the Bolsa de Madrid. As a capitalisation weighted index, it is based on the free float method, which means that it counts the shares that are in the hands of public investors, as opposed to the restricted stocks held by company insiders. Some of the largest companies it consists of are BBVA, Banco Santander, Telefónica and Iberdrola, however, it is important to note that the list is reviewed and updated twice a year.

CAC 40
Symbol: FRA40
Trading hours: 9.00-23.00
Another European free float market capitalisation weighted index, the CAC 40 is the benchmark index of the stock market in France. It represents the top 40 stocks traded on the Euronext Paris stock market. As France represents about a fifth of the European Economy, it might provide an insight of where the European market is heading, as well as present an opportunity to profit from its own price fluctuations. The CAC 40 covers stocks across multiple industries, including pharmacology, banking and oil equipment.

FTSE 100
Symbol: UK100
Trading hours: 9.00-23.00
Also called the footsie, the Financial Times Stock Exchange 100 is a market capitalization weighted index representing the top 100 blue chip companies on the London Stock Exchange. The index is said to map more than 80% of the total capitalization in the United Kingdom. Stocks are free-float weighted to ensure that only the investable opportunity set is included within the index. The FTSE group manages the Index, which in turn is a joint venture between the Financial Times and the London Stock Exchange.

How to start trading?
The first step is to open an OctaFX MT5 account, which offers all of the indices listed above, as well as 28 currency pairs, crude oil and metals. You will trade with no swaps and no commissions and low spreads.



How to Withdraw Money at OctaFX
Important: by the law, you can only withdraw money after verifying your profile—this is required by law.

Log in to your Personal Area on our site.

Further actions depend on whether you want to withdraw money from your Wallet or your trading account.
From your Wallet
View the main menu by pressing the icon in the top-right corner of the screen. Then press Withdraw under your Wallet balance.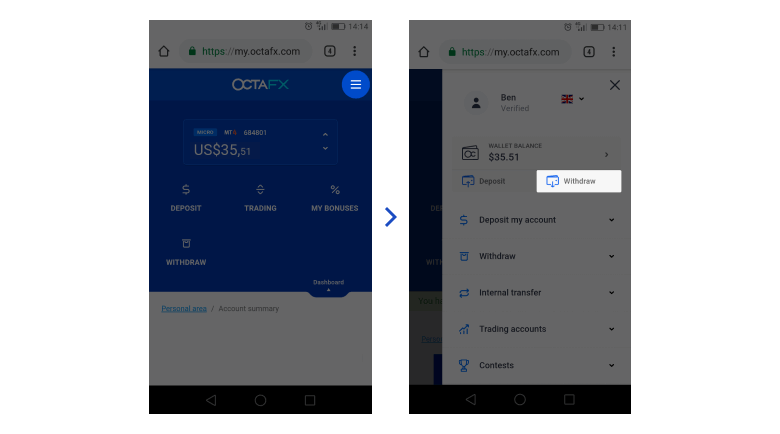 From your Trading account
Select the account you want to withdraw money from on the main screen. Then press Withdraw.

You will see a full list of payment options available in your region. Pick the one that suits you best and press Next.

We usually process withdrawal requests for 1–3 hours, but it's up to your payment system how long it will take the money to reach the destination.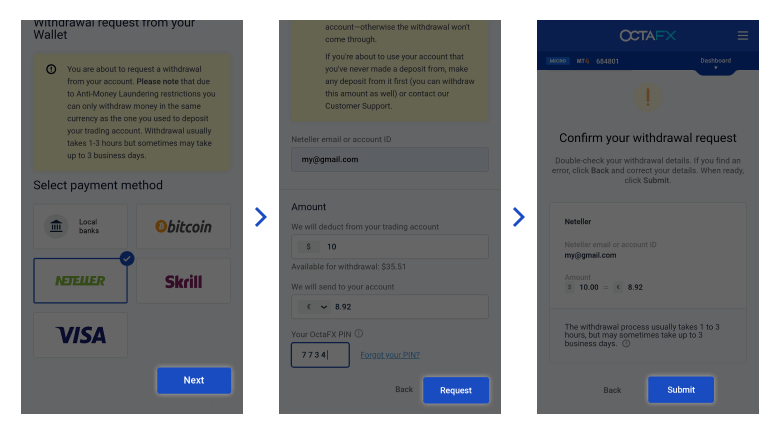 Limits for withdrawals:
Skrill, Perfect Money, Neteller—from 5 USD (5 EUR), without the maximum limit
Bitcoin—from 0.00096 BTC, without the maximum limit
Mastercard—from 50 USD (50 EUR) or the equivalent in other currency
Visa—from 20 USD (20 EUR) or the equivalent in other currency
Banks may apply their own limits
Then enter the details required for the selected payment method and press Request. Make sure you specify correct currency.

On the last step, you can double check that you've entered all details correctly. Check them thoroughly and confirm that everything is okay by pressing Submit again.

That done, wait for a notice from us—we'll let you know that the money is sent to you via email and in a notification in your Personal Area.
FAQ of OctaFX



Account Opening



I already have an account with OctaFX. How do I open a new trading account?
Sign in to your Personal Area with your registration email address and Personal Area password.
Click Create account button on the right of My accounts section or click Trading Accounts, and select Open real Account or Open demo account.



What type of account should I choose?
It depends on the preferred trading platform and the trading instruments youd like to trade. You can compare account types
here
. If you need to, you can open a new account later.



What leverage should I select?
You can select 1:1, 1:5, 1:15, 1:25, 1:30, 1:50, 1:100, 1:200 or 1:500 leverage on MT4, cTrader or MT5. Leverage is virtual credit given to the client by the company, and it modifies your margin requirements, i.e. the higher the ratio, the lower the margin you need to open an order. To choose the right leverage for your account you can use our Forex calculator. Leverage can be changed later in your Personal Area.
 



Verification



Why should I verify my account?
Account verification allows us to make sure your information is valid and protect you against fraud. It ensures that your transactions are authorised and secure. We strongly recommend submitting all of the required documents before making your first deposit, especially if you want to deposit with Visa/Mastercard.
Please note that you can only withdraw funds if your account is verified. Your personal information will be held in the strictest confidence.



I have submitted the documents. How long does it take to verify my account?
It usually takes just a few minutes, but sometimes it may require more time for our Verification Department to review your documents. This may depend on the amount of verification requests, or if it was submitted overnight or at the weekend, and, in these cases, may take up to 12-24 hours. The quality of the documents you submit can also affect approval time, so make sure your document photos are clear and not distorted. Once verification is completed, you will get an email notice.



Is my personal information safe with you? How do you protect my personal information?
We use highly secure technology to protect your personal data and financial transactions. Your Personal Area is SSL-secured and protected with 128-bit encryption to make your browsing safe and your data inaccessible to any third parties. You can read more about data protection in our Privacy Policy.


Deposit/ Withdrawal



When will the deposited funds be credited to my balance?
Bank-wire transfers: All requests are processed within 1-3 hours during business hours of our Financial Department. Skrill/Neteller/FasaPay/Bank Card/Bitcoin deposits: instant.



What is the exchange rate for USD to EUR when depositing via credit card/Skrill to a EUR account/Internal transfer?
OctaFX does everything possible to ensure our clients have the best rates while depositing. We also don't charge any commission, and cover deposit and withdrawal fees applied by payment systems. When depositing via VISA or Mastercard, be aware the bank involved in the process will convert your funds according to its exchange rate, if your deposit is in a currency other than EUR or USD.
Note that the bank involved in the process may also charge additional fees for the transactions. If a client deposits via Skrill, they pay no extra fees if their Skrill account and trading account are in USD. If the client's Skrill account is in USD and their trading account is in EUR, the deposit in USD will be converted to EUR as per FX rate. If a client's Skrill account is in currency other than USD, Skrill will convert the money into USD using their own exchange rate and may charge additional fees. The process of depositing via Neteller is the same as for Skrill.



Are my funds safe? Do you offer segregated accounts?
In accordance with international regulation standards, OctaFX uses separate accounts to keep customers funds segregated from the companys balance sheets. This keeps your funds secure and untouched.



Which currencies can I use to fund my OctaFX account?
OctaFX currently accepts deposits in all currencies, to be converted into EUR and USD. Please note that account currency cannot be changed to currencies other than USD or EUR. If your account is in EUR you can always open a new account in USD, and vice versa. Please note that we don't charge any commission for deposits or withdrawals, as well as keeping our conversion rates among the best in the industry.



Do you charge any fees for deposits and withdrawals?
OctaFX does not charge its clients any fees. Moreover, deposit and withdrawal fees applied by third parties (e.g. Skrill, Neteller, etc) are also covered by OctaFX. However please be aware that some fees can may be applied in certain cases.



What is the maximum amount for withdrawals/ deposits?
OctaFX does not limit the amount you can withdraw or deposit into your account. The deposit amount is unlimited, and the withdrawal amount should not exceed free margin.



Can I deposit/withdraw several times a day?
OctaFX does not limit the number of deposits and withdrawal requests per day. However, it is advised to deposit and withdraw all of the funds in one request to avoid unnecessary delays in processing.



Can I submit a withdrawal request if I have open orders/positions?
You can submit a withdrawal request if you have open orders/positions. Please note that free margin has to exceed the amount you requested, otherwise the request will be rejected. The withdrawal request won't be processed if you have insufficient funds.



Where can I review my deposit/withdrawal history?
You can find all previous deposits in your Personal Area. Click Deposits history under "Deposit my account" section. Withdrawal history is available in your Personal Area under the "Withdraw" option on the right.





OctaFX Trading



What is your spread? Do you offer fixed spread?
OctaFX offers floating spreads that vary according to the market situation. Our goal is to provide you transparent prices and the tightest spreads we can without applying any additional commission. OctaFX simply passes on the best bid/ask price we receive from our liquidity pool and our spread accurately reflects what is available in the market.
The main advantage of a floating spread over a fixed spread is that it is often lower than average, however you may expect it to widen at market open, during rollover at (server time), during major news releases or high volatility periods. We also provide excellent fixed spreads on USD-based pairs, which offer predictable costs and are ideal for long-term investment planning. You can check minimum, typical and current spreads for all trading instruments on our Spreads and conditions page.



How does floating spread change throughout the day?
Floating spread varies throughout the day depending the trading session, liquidity and volatility. It tends to be less tight at market opening on Monday, when high impact news is released, and at other times of high volatility.



Do you have requotes?
No, we do not. A requote occurs when the dealer on the other side of the trade sets an execution delay during which the price changes. As a non-dealing desk broker OctaFX simply offsets all orders with the liquidity providers to be executed at their end.



Do you have slippage on your platforms?
Slippage is a slight execution price movement that may occur due to the lack of liquidity behind the requested price or when its been taken by other traders orders. It can also happen due to market gaps. Slippage should be factored in as one of the risks when trading with an ECN broker since it cannot guarantee that your order will be executed at the requested price.
However, our system is set up to fill orders at the next best available price whenever slippage occurs. Please be aware that slippage can be both positive and negative, and OctaFX cannot influence this factor.



Do you guarantee stop orders?
Being an ECN broker, OctaFX cannot guarantee filling at the requested rate. After being triggered, a pending order becomes a market one and is filled at the best available price, which primarily depends on the market conditions, available liquidity, trading pattern and volume.



Is it possible to lose more than I deposited? What if my accounts balance becomes negative?
No, OctaFX offers negative balance protection, so whenever your balance becomes negative we automatically adjust it to zero.
Negative balance protection
OctaFXs top priority is making your trading experience great, that's why no matter what the risks are, we'll back you up: Our risk management system ensures that the client cannot lose more than he initially invested.If your balance becomes negative due to Stop Out, OctaFX will compensate the amount and bring your account balance back to zero.
OctaFX guarantees that your risk is limited to only those funds you have deposited into your account. Please be aware that this does not include any debt payments from the client. Thus our clients are protected from losses beyond the initial deposit at OctaFXs cost. You can read more in our Customer agreement.



How much margin is required to open my order?
It depends on the currency pair, volume and account leverage. You can use our Trading Calculator to calculate your required margin. When you open a hedge (locked or opposite) position, no additional margin will be required, however if your free margin is negative you will not be able to open a hedge order.



My order was not executed correctly. What should I do?
With market execution we cannot guarantee filling at the requested rate for all of your positions (please check About ECN trading for more details). However in case you have any doubts, or if you would like an individual review of your orders, you are always welcome to write a detailed complaint and send it to
[email protected]
. Our trade compliance department will investigate your case, provide you with a prompt response and make corrections to the account if applicable.



Do you have any commissions?
MT4 and MT5 commission is included in our spreads as mark-up. No additional fee is applied. We charge trading commission on cTrader. View half-turn commission rates



What trading techniques and strategies can I use?
Our clients are welcome to use any trading strategies, including but not limited to scalping, hedging, news trading, martingale as well as any Expert Advisers, with the only exception being arbitrage.



Do you allow hedging/scalping/news trading?
OctaFX allows scalping, hedging and other strategies, if the orders are placed in accordance with our Customer Agreement. However please note that arbitrage trading is not allowed.
What tools do you have for me to track major news releases and times of high market volatility?
Please feel free to use our Economic Calendar to be informed about upcoming releases, and our Forex News page to learn more about recent market events. You can expect high market volatility when the event with top priority is about to take place.



What is a price gap and how does it affect my orders?
A price gap signifies the following:
Current bid price is higher than the ask price of the previous quote;
or Current ask price is lower than the bid of the previous quote
Current bid price is higher than the ask price of the previous quote; or current ask price is lower than the bid of the previous quote. It is important to understand that you may not be always able to see a price gap on the chart since it can be enclosed in a candle. As the definition implies, in some cases you would need to observe the ask price, while the chart shows only the bid price. The following rules are applied to pending orders executed during a price gap:
If your Stop Loss is within the price gap, the order will be closed by the first price after the gap.
If the pending order price and Take Profit level are within the price gap, the order will be cancelled.
If the Take Profit order price is within the price gap, the order will be executed by its price.
Buy Stop and Sell Stop pending orders will be executed by the first price after the price gap. Buy Limit and Sell Limit pending orders will be executed by the order's price.
For example: bid is listed as 1.09004 and ask is 1.0900. In the next tick, bid is 1.09012 and ask is 1.0902:
If your Sell order has stop loss level at 1.09005, the order will be closed at 1.0902.
If your Take Profit level is 1.09005, the order will be closed at 1.0900.
If your Buy Stop order price is 1.09002 with take profit at 1.09022, the order will be cancelled.
If your Buy Stop price is 1.09005, the order will be opened at 1.0902.
If your Buy Limit price is 1.09005, the order will be opened at 1.0900.



What happens if I leave my order open overnight?
It depends on your account type. If you have a MT4 regular account, swap will be applied to all positions left open overnight (server time). If your MT4 account is swap-free, swap-free commission will be applied overnight instead. MT5 accounts are swap-free by default. Three days fee is charged, meaning it will be applied on every third rollover of your trade. cTrader accounts are swap-free and have no overnight fees. However a fee is changed if you leave your position open for the weekend. You can use this tool to examine our fees.



Can I trade Cryptocurrency at OctaFX?
Yes, you can trade Cryptocurrency at OctaFX. You can trade Bitcoin, Bitcoin Cash, Ethereum, Litecoin, and Ripple. You can see how to trade Cryptocurrency here.



Can I trade Commodities at OctaFX?
Yes, enjoy the benefits of trading gold, silver, crude oil and other commodities with OctaFX! See more here



What are commodities?
Сommodities are tradeable physical assets such as metals including gold, silver, platinum and copper, as well as crude oil, natural gas and other resources.